In addition to the hardware we used last year, this year we have also added 3,500 invidually addressable, full RGB color (16,581,375 different colors) WS2811 LED lights (commonly known as "neopixels") which we sourced from a supplier in Shenzen, China; and new controllers for them from Falcon Christmas/Pixel Controller, LLC.
Running the Mega Tree is our main LED controller, an F16v3, which has 16 ports and can control 1,024 different LED bulbs per port.
Attached to the F16v3 is a Differential Expansion board, which allows us to run a single cable to other areas of the display.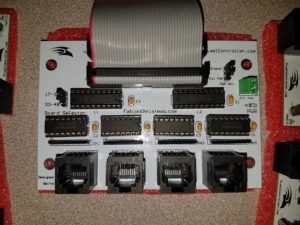 In those areas we use a Differential Expansion Receiver board, each of which have 4 ports, and can control 1,024 LED bulbs per port. (The 1,024 bulb limit is shared with the 16 ports on the F16v3)
Powering all of the LED's and controllers are some used HP Server power supplies, each of which can deliver up to 56 amps / 700 watts of power at 12 volts DC. We picked up a lot of 8 of these from a computer parts/electronics recycling non-profit out of Milwaukee; "Digital Bridge".
All of the props and display elements were built using parts available from local hardware stores, as well as coroplast items available from Boscoyo Studios.
The display takes a couple thousand feet of wiring, for AC and DC Power, as well as data.
The entire show was sequenced over many hours throughout the year in software called Xlights.
The rendered sequence(s) from Xlights are then copied to a USB flash drive attached to the same Raspberry Pi we used last year to run the show. The Raspberry Pi transmits the control commands over the network (both ethernet and Wi-Fi) using the E1.31 protocol to the controllers, and the audio goes to a low power FM transmitter tuned to 102.3.