Over the last week or so, our team has been building many of the new props for this year's display.
Earlier this year we built 2 concrete "portable hole" bases, for our tune to sign / north pole, and our mega tree. Both weigh between 60 and 80 pounds, and are made with pressure treated 2″x6″ wood, 4″ lag screws and rebar for added strength. Eye bolts on the top allow for further anchoring into the yard when we install them during setup using 18″ pieces of rebar as stakes.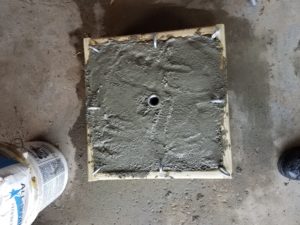 The first new prop we started working on was 2 "pixel poles w/spinners".


The second prop we have been working on is custom frames for all of the doors and windows on the front side of the house made from 1/2″ PVC pipe, with holes drilled every 2 inches for lights.
Once all of the frames are complete, we will focus on our mega tree, our animated bell (below), and our 4 arches (also below).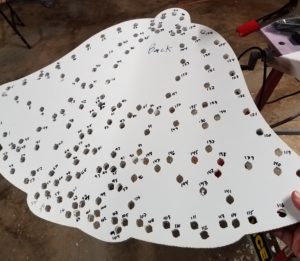 Stay tuned!